Recycling

Why dispose of your old concrete when you can Recycle? Recycling concrete generally saves energy compared to mining, processing and transporting new aggregates.
Benefits of Recycled Concrete:
Save Money - Disposal can cost as high as $100 per Ton to transport
Save Time - Removed from area in minimal time
Convenience - Can be done right on site!
Save the Environment - Reduce landfill waste
Benefits of End Product
Provides a product for superior compaction and constructability.
Is being used in concrete and asphalt products with better performance over comparable virgin aggregate.
Recycled aggregates are lighter weight per unit of volume, which means less weight per cubic yard, resulting in reduced material cost, haul costs, and overall project costs.
Typically has higher absorption and lower specific gravity than natural aggregate and will produce concrete with slightly drying, shrinkage, and creep.
Ideal for repairing soft spots in road construction.
Can be used in place of base course material in parking lot/road construction and top coated with recycled asphalt.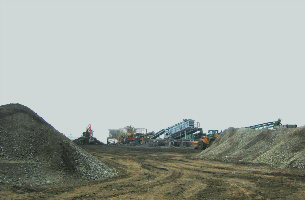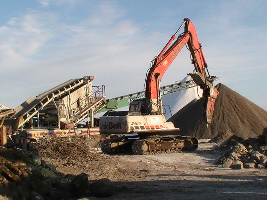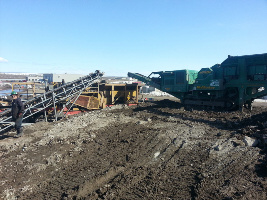 Concrete to Gravel "The Town Saves Money"
by Joan Plaxton, Staff
It has been busy at the old landfill site north west of Valleyview these days. DD Contracting & Construction Ltd., Cold Lake is chewing up the concrete castaways from the former St. Stephen's School and other concrete structures. The project will save a minimum of $50,000 in respect to the purchase of gravel for the Town.
Superintendent of Public Works, Jim Baumgardt, says the contracting company will remove all the steel and break up the concrete into two feet by two feet chunks. The chunks will be crushed and if the pieces are ¾ inch in size they will pass through a screen and onto the stacker (conveyor belt). The larger chunks will be diverted back to be crushed a second time. The goal is to ensure all the concrete chunks are crushed into ¾ inch gravel.
'We expect to end up with approximately 10,000 tons of gravel which translates into half the cost of regular gravel," noted the director. "Even factoring in the expense of using Double D the Town should realize a savings of at least $50,000."